DentalSure Membership Dental Program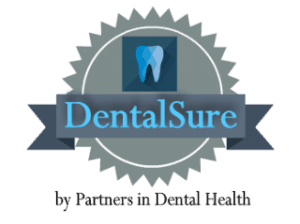 We value our patients loyalty.
For our patients without insurance, we've created our membership club to simplify and save you money.
Includes 2 cleanings, 3 exams, and all x-rays for the entire year
Plus our loyal members save 15% on all treatment.
You get the care you need more affordably by eliminating a 3rd party.
Join our membership club and start saving today.
Frequently Asked Questions
Legal & Disclaimers
Membership clubs are not insurance but a payment arrangement provided by Partners In Dental Health LLC for services rendered. Membership is not transferable to other dental offices. Payment for any treatment is due at the time of service. Membership discounts start after Membership is activated.  Membership dues must be current in order to receive services. A lapse of 28 days in dues will require a reactivation fee of the missed dues. DentalSure membership has a one time lifetime activation of $50 and requires 5 payments of dues which will be spread out over 6 months and your membership will continue automatically with continued dues paid monthly.  Membership club discounts may not be combined with any other offers or discounts. It is solely the patient's responsibility to schedule and keep their appointments. No refunds will be provided for dues paid under any circumstances, including failure to schedule and maintain appointments. A patient member's monthly agreement is with the legal entity of Partners In Dental Health LLC. Monthly dues and fees for dental services may change at any time. Payment management services are provided by Rerun.