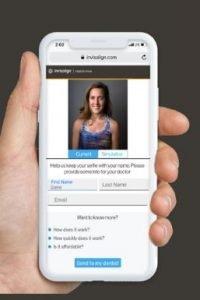 See what Invisalign
treatment could do for you!
Simply take a smiling selfie and
we'll simulate your new smile
Why Invisalign Treatment
Choose the clear aligner system committed to continuous innovation, with 20 years of clinical research and more than 700 patents. No other clear aligner is backed by the data and experience of 4 million cases.
Up to 50% faster treatment times*
With weekly aligner changes, you're on your way to the smile you want even faster.
Proven results
SmartTrack® material and SmartForce® features are clinically proven to achieve 75% more predictable tooth movement.**
Better fit, better comfort
Aligners made from SmartTrack material are more comfortable, better fitting, and easier to put on and take off.***
Effective for a wide variety of cases
Proprietary SmartForce features and SmartTrack material make Invisalign treatment effective for complex cases. With innovations like these, your doctor can move your teeth more precisely.
Unique feature for teens
Invisalign clear aligners for teens contain compliance indicators that fade from blue to clear to help gauge wear time.
The Invisalign® Advantage
While the results may appear the same—a confident, beautiful smile—when you stop and actually compare Invisalign versus braces, the advantages become quite apparent. See why more than 4 million people have trusted the world's most advanced clear aligner system to achieve their best smile.
Invisalign Clear Aligners
Other types of braces
Other Clear Aligners
Treats simple to complex cases

●

●

Proprietary SmartTrack® material for more predictable, controlled tooth movements

●

Virtually invisible

●

●

Removable aligners so you can enjoy all the foods and activities you love, and brush and floss easily

●

●

No injuries due to broken wires or brackets

●

●

No pain from sharp brackets and wires

●

●

Easier to see results at every stage of treatment

●

●

Frees up your busy schedule with office visits only every four to six weeks

●

Covered by many orthodontic insurance plans

●

●

●

Teens in treatment are 2x more likely to have a boost in self-esteem

●

●

Blue indicator dots for teens to monitor compliance

●
Schedule an Invisalign Consultation
We provide exceptional treatment with Invisalign®. Many patients have had their smiles transformed with the virtually invisible Invisalign® system. To schedule a consultation with our skilled cosmetic dentists, contact our office to see Dr Mathew Kent.
What Determines Your Cost?
Invisalign treatment (often $3,000 to $5,000) will be determined by:
the complexity of your case,
how long you are in treatment,
your orthodontic insurance coverage.
Your Payment Options
Insurance
Many dental insurance plans cover Invisalign treatment just as they would other orthodontic treatments and may cover up to $3,500 of your treatment cost. Ask our staff about how to use your orthodontic insurance coverage to pay for Invisalign treatment.
FSA
Did you know you can apply your flexible spending account toward Invisalign treatment? You can set aside up to $2,550 of your pretax dollars through your FSA and use those funds to help cover the cost of Invisalign treatment.
Payment Plans
There are many affordable monthly payment plans. If your insurance doesn't cover all of your treatment costs or if cost is a concern for you, discuss your options with our staff.
Invisalign Treatment Cost Is Less Than That Of Braces